---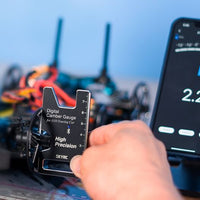 Empowered edge 

for RC Gurus!
Camber and Toe Gauge
Gets Bluetooth
With a nonstop passion for RC car racing, SkyRC upgraded its mechanical predecessor with Bluetooth.
The must-have RC Gears app definitely brings smartness to this gauge. Now our racers can measure the RC car's camber and toe angle and read the data on the phone and on the fly!
RC suspension tuning made easy and smarter!
When it comes to RC grade racing, so many adjustments can contribute to the handling and performance
of the vehicle
.
Adjusting Camber and Toe are vital adjustments to affect how your touring car performs on the straights
and the turns
.
Toe In/Toe Out can be adjusted to increase or decrease steering and
steering response.
Camber is the relationship of the tire to the ground, such that a tire that is perpendicular to the racing surface has zero camber. If the top of the tire leans in toward the car, it has negative camber; likewise, a tire that leans outward at the top has positive camber. Most RC touring cars will benefit from a negative camber degree, resulting in a slightly wider width and more static tire grip on the track surface, benefiting the turns and reducing roll-overs.
Wheels Setup is a breeze now
On your setup wheels, in your race wheels, or next to your setup station, CTG-015 will give you incredibly accurate readings on the camber angle of your wheels.
The toe-tuning and camber-adjusting allow you to achieve your perfect tire wear and traction point.
This accurate gauge allows you to tweak your camber and camber gain settings, finding peace of mind that you are following a precise, replicable and trustworthy measurement tool.
All data can be read and kept on the phone!
SkyRC CTG-015 Digital Camber Gauge is built with Bluetooth 5.0, which enables a faster and more stable connection. The app instantly displays real-time data once connected.
More information
https://www.skyrc.com/ctg-015