---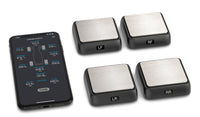 NOTICE:
For oversea customers, if you want to ship your weight system WITH BATTERIES, please select UPS for shipping. 
Using e-Express, airmail and SF express service will NO BATTERIES included.

SkyRC smart weighing system is small and portable in size. It can accurately measure the weight distribution at the racing car's four corners. So RC racer can quickly adjust the weight at each corner to the best balance effect and win the race.

The native emphasis on the ultra-low power consumption of Bluetooth 5.0 and our proprietary protocol get a CR2450 lithium coin battery to deliver the long-lasting, dependable performance of continuous 30 hours.


Dimension: 68*68*22.5mm
Net weight of each scale: 70g
Rated Voltage: 2.6V-3.6V
Rated Current: <10mA@DC3V
Battery: CR2450 3V Lithium Coin Battery
Maximum weight of each scale: 2000g
Tolerance: ±0.1g / 0.1oz
Resolution: ±0.1g / 0.01oz