---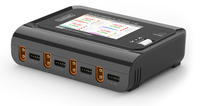 M4Q is a compact in size, while equipped with 4 charge channel. With maximum 5A (DC) charging current, suitable for most RC hobby products use.

Wide viewing angle 480 x 320 LCD screen, makes information show clear and nicely.

Specification
- AC100-240V@MAX1.5A
- DC10-18V@MAX20A
- Supporting LiPo LiHV LiFe Lion@1-4S, NiMh @1-10S Pb @1-8S
- Balance current 240mA @2-4S
- Firmwarm Upgradeable with USB2.0 port.
- Providing charging and storage mode.

Charger power
- 0.1-5A@50W*4 DC input
- 0.1-5A@50W*2 AC input
- 0.1-5A@25W*4 AC input

Size
- 150*112*36.5mm

Notice
- We providing the XT60 output port version only, while we accept custom order for XT30 output port. Power output are the same for these two version.
- This charger do not providing discharge function, however you can use the storage mode for discharge at 0.05A maximum.